Grant Writing Workshop on August 3, 2022
WSLI is proud to offer two free webinars to anyone involved in organizations that support families in Washington State, including those that serve Children and Youth with Special Health Care Needs. The two free workshops are described below.
Webinar recordings and supplemental materials will be available to those who register.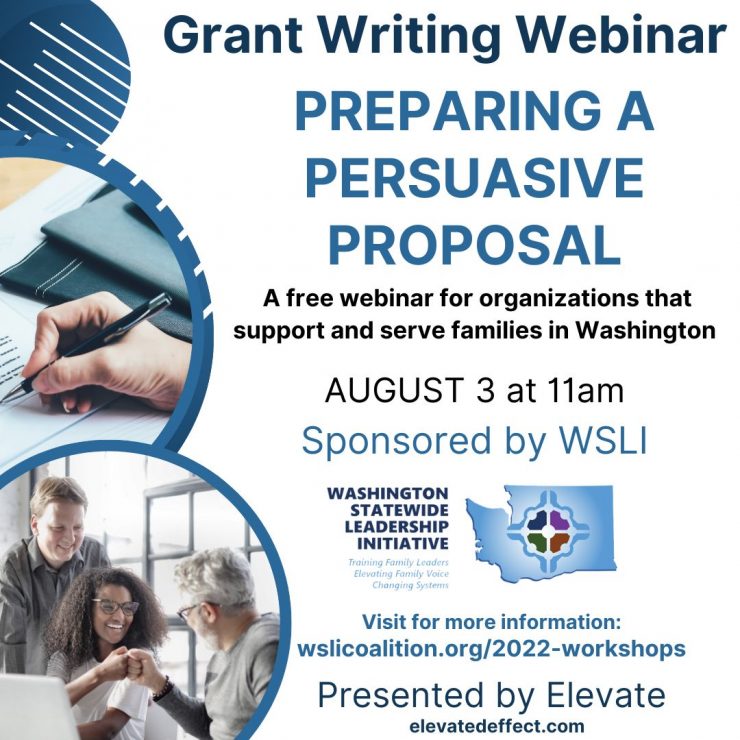 August 3rd Grant Writing Workshop
9:00am-10:30am: How to Build Your Grants Program – This webinar is a deep dive into the role that grants and grant writing play in an organization's fundraising strategy. This webinar will cover the four key stages of a grant (prospecting, cultivation, drafting, and stewardship) as well as best-practices for incorporating a grant program into your organizational planning.
11:00am-12:30pm: Preparing a Persuasive Proposal – This webinar is an introduction to grant-writing for organizations or staff who have little or some exposure to grant writing. This webinar will cover application planning and process, how to align your language and strategy with what funders are looking for, and the anatomy of a proposal and how to answer each application question compellingly.