Current Grants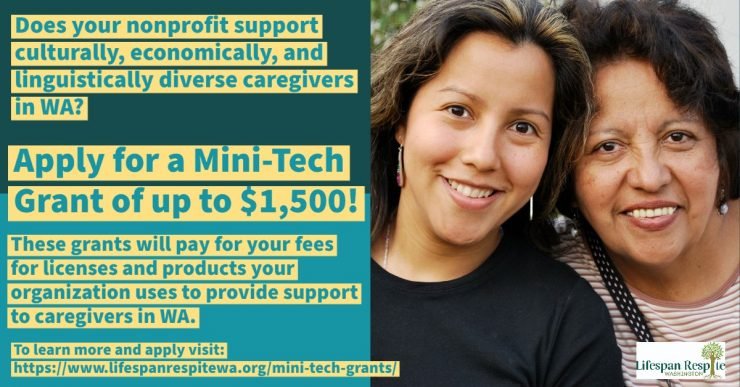 Grant awards can be up to $1,500!
Grants will be used to purchase technology that supports your service to culturally, economically, and linguistically diverse family caregivers.
Examples:
Licenses for software and virtual meeting platforms (Zoom, MS Office, MS Teams, etc.)
Mass texting
Call-joining services
Podcasts apps and licenses
Video or graphic technology used to share information and support with caregivers
Offer online support groups, recreation, activities, classes, etc. for caregivers
Awards can include costs for more than one type of technology.
Awards will be made on a "first-come, first-served basis" and until the $36,000 has been awarded. Nonprofits that facilitate virtual support groups and other self-care programs will be prioritized on a first come, first serve basis.
Through this funding opportunity announcement (FOA), the National Cancer Institute (NCI) solicits applications for Connecting Underrepresented Populations to Clinical Trials (CUSP2CT), a program that will implement and evaluate multilevel and culturally tailored outreach and education interventions with the primary goal of increasing referral and ultimately, accrual of underrepresented racial/ethnic (R/E) minority populations, to NCI-supported clinical trials (CTs) (National Clinical Trial Network (NCTN), NCI's Community Oncology Research Program (NCORP), and Experimental Therapeutics Clinical Trials Network (ETCTN)). The target population(s) should include individuals from underrepresented racial/ethnic (R/E) minority populations.
Deadline for Letter of Intent (LOI): October 19
On-Going Grants
Molina Community Innovation Fund – The Molina Community Innovation Fund was created to help decrease barriers to care, address social determinants of health, and grow integrated care services through innovative pilot programs and expansion of proven services. Molina will invest up to $1 million annually, for 3 consecutive years (2019 – 2021), to strengthen whole-person care.
Power of Youth Challenge – Through the Power of Youth Challenge, you will receive coaching and support as you develop your project. Every team that signs up will have access to financial support in the form of mini grants of up to $250. The amount of each grant will be determined by project needs.

​SAMHSA Grants – The Substance Abuse and Mental Health Services Administration provides several grants for funding opportunities that support programs for substance use disorders and mental illness​.
Seize the Moment Grants from the Institute for Rural America – Seize the moment grants are for organizing in response to an unanticipated challenge or threat to an organization's work and/or undertaking urgent action in response to extraordinary conditions. ​Maximum grant is $250.